→ 2021 MEETINGS ←
Due to the ongoing COVID-19 pandemic we have not scheduled any 2021 meetings. Once local and provincial regulations allow meetings, and the health and safety of our members can be assured, we will schedule meetings.
Once meetings are scheduled the website will be updated and an email will be sent out, if you are not on the email list and would like to be added please email dpowell@unifor43.org and ask to be added (please include your name and bargaining unit)
→ CORONAVIRUS PAGE ←
We put together a Coronavirus awareness page with FAQ's and information from the National, along with links to the Corona pages from the Federal and Provincial government
Real Talk pledge card WINNERS
Thanks to all the members who filled out one of the Real Talk pledge cards, pledging to fight for good telecommunications jobs in Canada.
We held a draw of all submitted cards to determine who the winners of the $100 $50 and $25 gift cards would be..
AND THE WINNERS ARE:
1st Prize - $100 - Ron Woodcock
2nd Prize - $50 - Jakub Kupnicki
3rd Prize - $25 - Mike Mazzone
Congratulations to the winners, we will be reaching out to you via email shortly. Thanks again to all members that filled out a card, and all the reps who helped make this campaign a success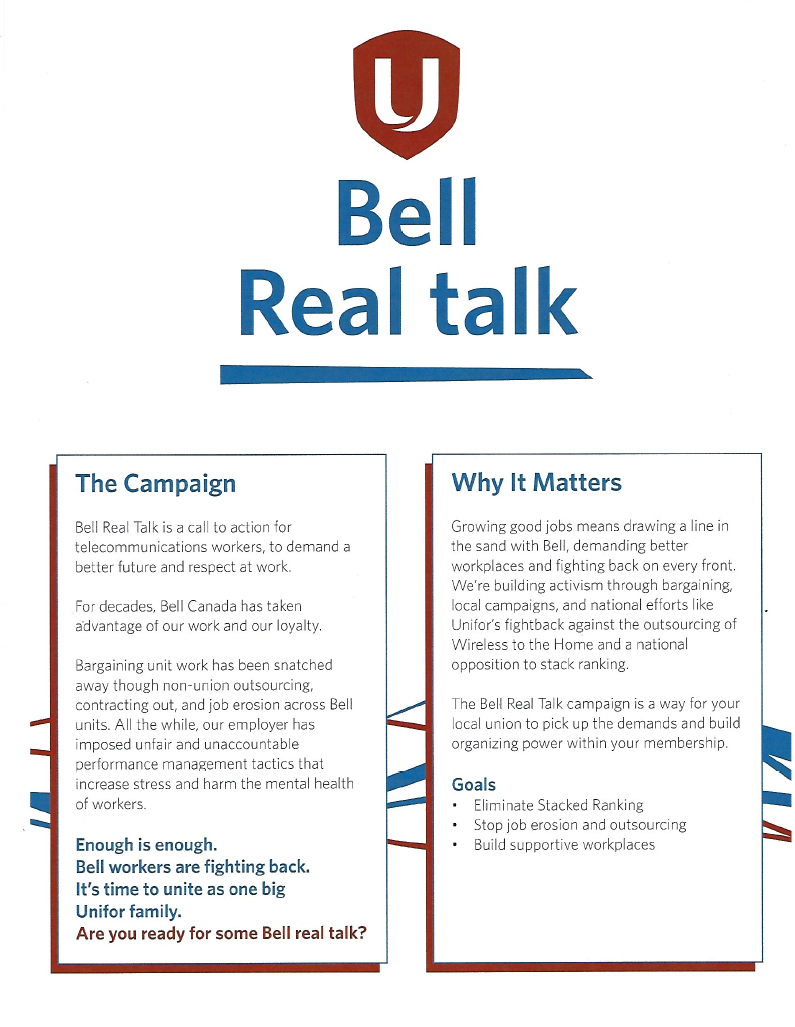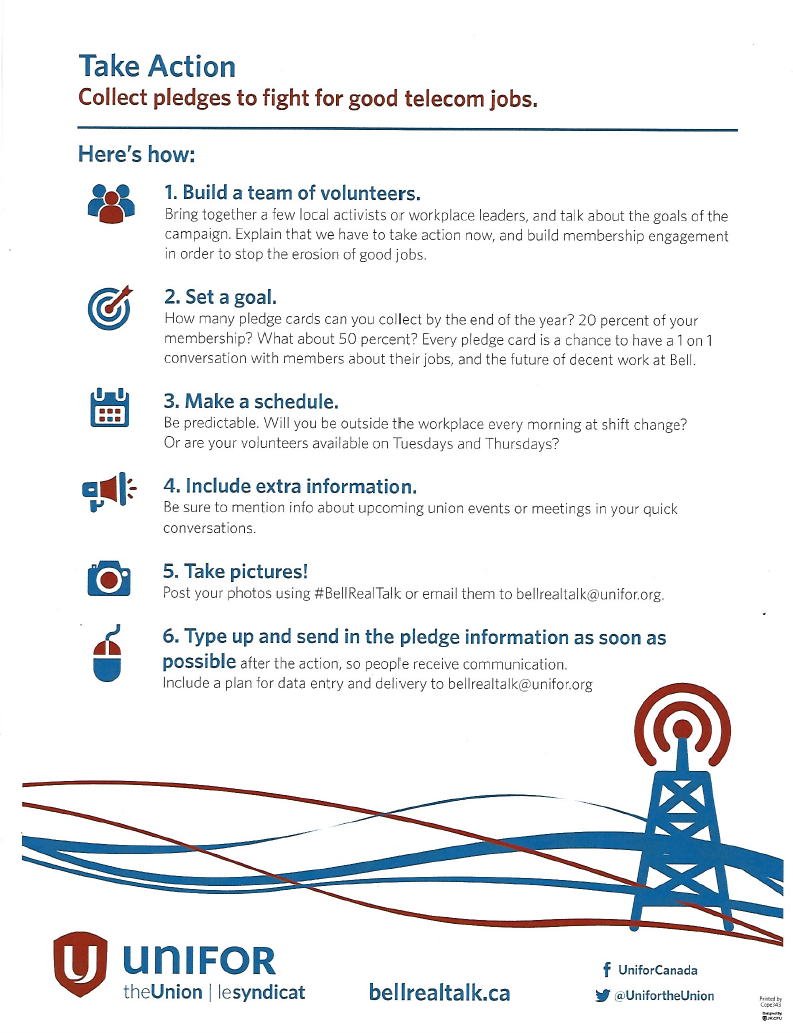 Unifor Local 43
Who are we?
Representing telco workers from Bell, Expertech, Bell Technical Solutions and Transervice in the Niagara Region
Mailing list
Join the Unifor 43 mailing list for updates/reminders on meetings. To join, send an email from the address you want added with your name and bargaining unit to the recording secretary dpowell@unifor43.org
NOTE: Personal email addresses only, company emails will not be accepted
Bulletins
Bell craft bargaining bulletin #9
Please see bargaining bulletin #9 from the Bell Craft & Services bargaining committee Click preview below for bulletin ...
READ MORE
Mon Feb 22, 2021
Bell Craft Bargaining Bulletin #8
Please see bargaining bulletin #8 below Click the preview to view full article ...
READ MORE
Fri Feb 12, 2021
Bell Craft Bargaining Bulletin #7
Please see bargaining bulletin #7 below Click preview for full article ...
READ MORE
Thu Feb 11, 2021